Post by Fletch_smf on Nov 23, 2015 1:16:56 GMT -6
Dragonvale World is the newest game from Backflip Studios featuring our favourite mythical creatures. The game play is incredibly similar to Dragonvale, unsurprisingly, you purchase primary dragons and habitats, breed them to make hybrids and new elements are introduced as you level up. The main difference to basic play is that this is a 3D game allowing you to truly see the dragons from all angles (you can rotate them on the screen yourself) and the environment you are in (decorations and buildings can also be rotated). Oh, also ... your islands aren't floating anymore.
Your New Park
The lower part of your island is is the base of your park. It holds the dragonarium, which players of DV1 should be able to pick out, and also the Market, the Clan Hall and the Wizard Hall. This island cannot be decorated or cleared and none of the buildings or the portal can be moved.
The tutorial doesn't start here but slightly north ...
Building your new Park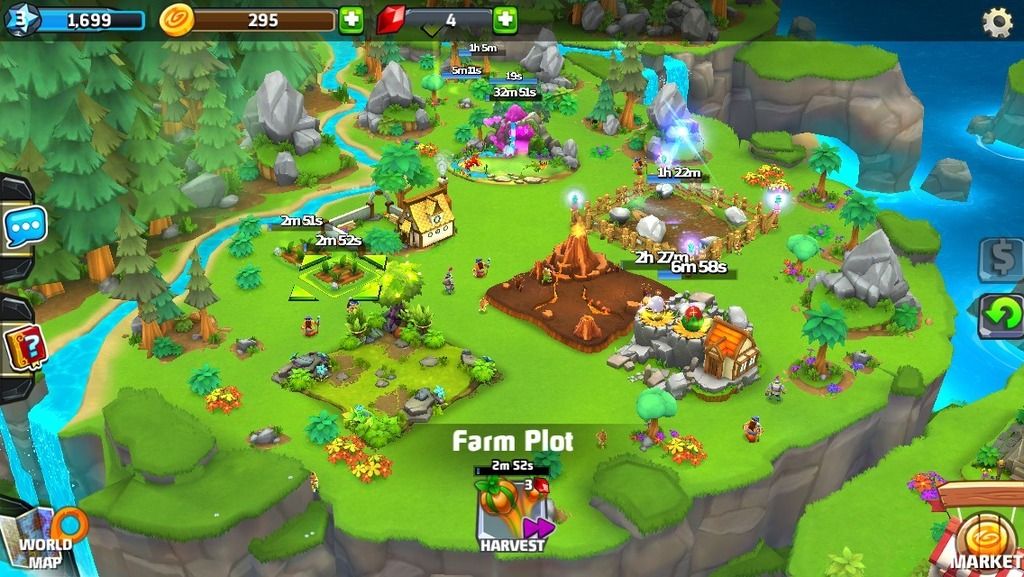 This is where the game play/tutorial starts. You build habitats, buy eggs, grow food and level up & breed dragons. I'm sure we can pick out Fire and Jungle habitats, a farm, the breeding cave and the hatchery. You can see timers over everything that is going on, including the construction of a habitat and the clearing of some obstacles at the back. As you progress and need more room, you can buy expansions (the top left shows the trees and rocks of the next expansion) but you also get to expand outside of your own island.
Expanding into new Locations
As part of the tutorial you unlock Brightleaf Jungle, your first new location which unlocks ...
... the Jungle Dragon and the Jungle Habitat. You can add the Jungle habitat to your park, but also, eventually, you can place dragons in the Brightleaf Jungle. You can also send Dragons with the Jungle element to explore the Brightleaf Jungle to find exotic foods that you can't grow yourself and other special items as well.
Spells
The special items your dragons find when they go collecting can temporarily change the look of your dragon, increase earnings or decrease breeding times. You can also use combinations of items to perform spells, that will cause permanent changes in your dragons.
Achievements
The game keeps track of all your progress and you get rewarded as you hit certain milestones. You can keep track of your progress in the Wizards Hall and the smaller goals are replaced by bigger ones (Feed Dragons 100 Times is replaced with Feed Dragons 1000 Times, etc).
Social Play
As you complete the achievements throughout the game your progress is posted in your Activity tab. Friends through GCID and FaceBook can "applaud" your achievements. This rewards you with gems, which as we all know, is a vital element of the game. You can also visit your friends parks, join a Clan and even send messages.
And that's pretty much the overview of game play. Follow the links below to take you to threads with specific answers or to ask questions.
Daily Rewards Calendar
Check into DV World each and every day to 'Open Calendar' for Daily Rewards! Everyday gives you a new opportunity to collect Dragoncash, XP, Spin for Gift, Food, and Gems. At the end of 20 days you earn a free Dragonsai Dragon! Dragonsai Dragons are highly desirable Epic Dragons as they earn Gems and we could always use more Gems! Place your Dragonsai Dragons in one of three unique Dragonsai Habitats. Each Habitat holds 5 Dragons.
Wisteria
Deadwood
XP, Currency & Food
Dragons, Elements & Hybrids
Breeding Times
Rare Breeding Guide
Habitats & Locations
Decorations, Buildings and Obstacles
Items, Discounts & Boosts
Spells
Artefacts, Achievements & Goals

Social Play & Clans

Our Clans
Selling and buying goods with other players

Gem Exchange Thread
DV World Tips & Tricks thread