Post by Fletch_smf on Jun 2, 2013 22:10:37 GMT -6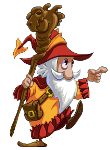 Interestingly, food does NOT count towards your park value. i.e. When you buy food, your park value goes down by the amount you spend. However your park value DOES increase when you feed that food to dragons (only when you increase a dragon's level though, not for individual 'feedings').
I only had a few minutes to toy around with it, and didn't record the value, but levelling one dragon to level 15 (from level 10) increased my park value by ~$28m, which works out to approximately $50/unit of food I fed.
So it makes me wonder whether feeding dragons gives you a fixed increase in $ value, or whether it increases by the cost of the food you bought. This gets very tricky though when you consider that you (generally) pay different amounts for food, not to mention food won through dragon racing.
When I get a bit of time, I might experiment a bit by levelling a single dragon from Level 1 to Level 20 recording the increase in park value for each increment.
I also want to toy around with seeing what happens when you breed dragons (does park value increase for a new dragon?), when you hatch a dragon, when you sell a dragon and some other things (selling habitats, buying / selling decorations, dragon eggs etc etc).
Not sure if anyone has ever looked into this before, but I find it quite interesting. I've noticed some of my friends have all time high park values literally 10's of billions of dollars higher than they currently have. I have no idea how this is possible, unless you are sitting on a MOUNTAIN of food or unless you've bought and sold decorations repeatedly.
I'm not sure what else could negatively impact your park value, but I'm interested to find out.
Just saw this post. Gems used together amount you had. Since the Huge habitats were introduced they changed it to factor in the amount invested, I'm guessing because for the first time you could sell a habitat and get gems in exchange.
Park value goes up according to number and type of dragons you have. And also what level they are. I think it's something like twice the sell price + 200 DC buy a Plant dragon and see what it goes up by to work it out. Feeding one up a level should be easy enough to work out the amount you gain compared to the food you used. Pretty sure it's a fixed ratio there.
Clearing out your HC would be a good way to drop a lot of DC. Not sure how pedestal eggs ffect things, but that should be easily testable as well.